Everyone has a coach, why not me?
Maybe your partner recommended finding a coach, or your boss told you to find one.
Perhaps your boss scheduled your first meeting and informed you who your coach would be.
Coaching does not have to carry a negative connotation. But too often, it's used as a corrective measure.
An effective coach can help you level up as a leader and respond to challenges you face every day. The coach won't give you the answers but will guide you to strengthen your leadership foundation.
Coaching is a style more than what we do. At its core, coaching is about building influence between the coach and coachee, and leveraging the trust and understanding to make changes to your work, personal life, family, or some other element of your day-to-day living.
Before we dive into why you need a coach, let me lay out why I coach.
Why I Coach
I started coaching when I was 16 years old. Not in the business world, but in the sports world. Coaching 8-12 year olds opened my eyes to what coaching could be. That year, I went from letter-winning varsity athlete to coach — as a coach, I couldn't do anything once the game started anymore. I had to motivate through influence, encouragement, and laying a strong foundation during practice, timeouts, and pregame huddles.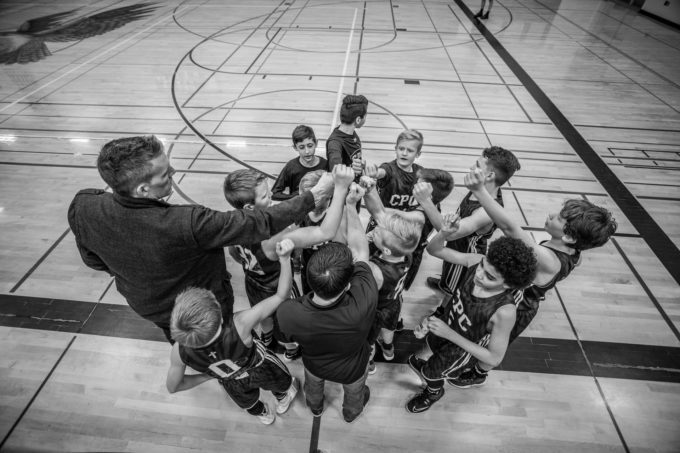 I have coached more than 16 seasons of softball, basketball, and baseball since that first season, and I love it just as much now as I ever did. Here are my three favorite parts of coaching sports.
3. Motivating the team during a huddle, reminding them of our key goals and giving simple, concise next steps

2. Celebrating incredible plays during the game when something goes right and it all clicks

1. Sprinting to centerfield or midcourt for our postgame huddle to — win or lose — celebrate what the team accomplished.
How I coach sports is the same as how I coach leaders. I can't do the work, I can only encourage and motivate. Our conversations use the leader's real-life experiences to jumpstart our work together.
Here is the upside of coaching.
How can I identify my True Potential?
We are wired to communicate, respond, and handle situations in unique ways, but our personal history (education, family, community) impacts how we approach every event in our day.
Coaching begins with understanding how you are wired. We need to hold up a mirror and understand ourselves before we try to model change in our key relationships. A good coach will hold up a mirror to help you translate your current reality into action.
Our tools fortify our coaching experience, providing the ultimate reflection experience. If we do not fully know or understand how others experience our leadership, we cannot improve or capitalize our influence.
Using our Leadership Intensive, we can also add a deeper reflection to your wiring, your story, and your vision for your preferred future.
If you understand your tendencies, you can better process your responses and develop new habits and rhythms.
Building Continuous Improvement
Utilizing our continuous improvement process allows us to build momentum in our coaching conversations. We undertake three key steps in our coaching conversations:
Looking Back
Looking Up
Looking Forward
We want to invite accountability and build momentum toward our growth. To do this, we must circle back to our previous conversation and understand what growth or momentum has occurred out of the goals you set in the previous conversation.
To grow, you must do the hard work. You need to reflect on your current reality in order to shape different outcomes.
Second, we look up. What external and internal factors are influencing your current reality? We need to identify and overcome barriers and hurdles before we can create a healthy future.
Last, we look forward. What current reality is most pressing? What is causing you heartburn? What goal needs your most urgent attention? Is there a crisis needing your attention?
When we focus on tackling these issues, we are focusing on your personal engagement and needs. Your coach is not bringing your path for growth. Your coach is not identifying your issues. Your coach is not bringing the agenda. You are. Your challenges. Your needs. Your growth opportunities.
Your coach is holding up a mirror and serving as the trusted confidant to process with you. A thinking partner, another perspective.
Coaching Can Help Us Be the Leader We Need To Be
An effective coaching model helps us coach. Patrick Lencioni says this is the most-abdicated role a leader can give up, is not coaching their people.
Leaders are not do-ers. 21st century leadership through influence is how we can coach our people up to their true potential.
If you have an effective coach, you will be able to lead your people more effectively as a coach for them.
What can coaching not accomplish?
Coaching is not for Culture Development
Coaching is a personal experience. Leader coaching is not about enacting change across the organization. We have a process for that, and it involves coaching, but your coaching cannot change the organization. Your coaching will only impact you — and those around you to the extent you make changes to how you interact with them.
Coaching is not the Answer
Coaching doesn't give you the answers. I like asking questions and exploring possibilities. I think toward the future. But when I help you dream about possibilities, it's not to give you the answers. It's about helping you unlock those dreams.
Coaching is about preparing you to discover the possibilities. Not give you all the answers.
Ready to explore coaching?
As a trusted idea-partner and coach, he will help you fight for the highest possible good of those you lead.
Connect with Aaron about coaching today.
Next Level Coaching
Ready to be a coach? The best leaders are coaches to their team. Our Digital Age Coaching workshop will give you the tools you need to be a coach for those you lead, taking them to their True Potential.
Digital Age Coaching Workshop
Teaching skills to coach your team
How to Build Influence with those you lead
What's different about leading in the digital age?
Using formal and informal spaces to coach
Leveraging influences in the 4 different audiences you lead
How to effectively apprentice someone