I've been on a high this week after working through my personal year-end retreat.
It's exciting to wrap up the year. Before midnight on December 31st, and we head into a new year, look back at what the past year has meant for you. Find some time to reflect and get ready for the new year.
It's like wrapping up the year with everything that you need, putting everything in order so that you can hit the ground running.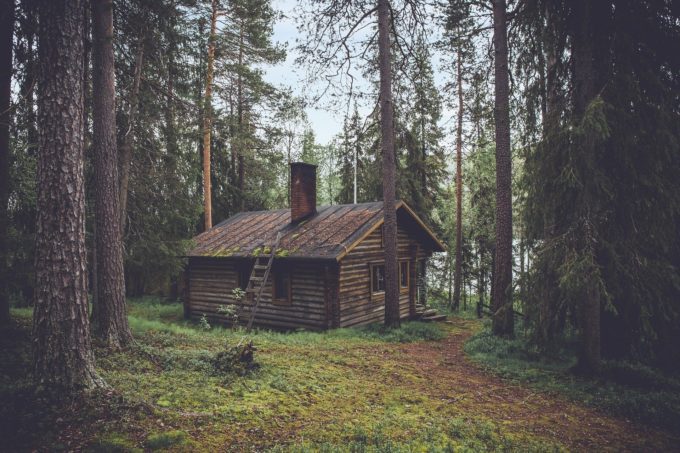 When January 1 comes, I will already have had my personal Retreat – a mini-retreat, if you will. And let me be real: it's never anything fancy. I don't go anywhere fun. I don't find a quiet cabin in the woods for my retreat. I am often in the same chair that I've been in for almost every other meeting this year.
But I reflect on the year. I unplug, take some time off of email, and shut the door. And reflected.
Before the year ends, I encourage you to find your own time. Here is my process:
Pre-Retreat Work
These past few years have been different. To start, I recommend spending some time assessing your personal health, balance, and peace.
3 Tools to Help you Reflect
Here are 3 tools to help you reflect, equip yourself for health, and start the new year on the right foot.
If you have never logged into GiANT OS, set up your free account first!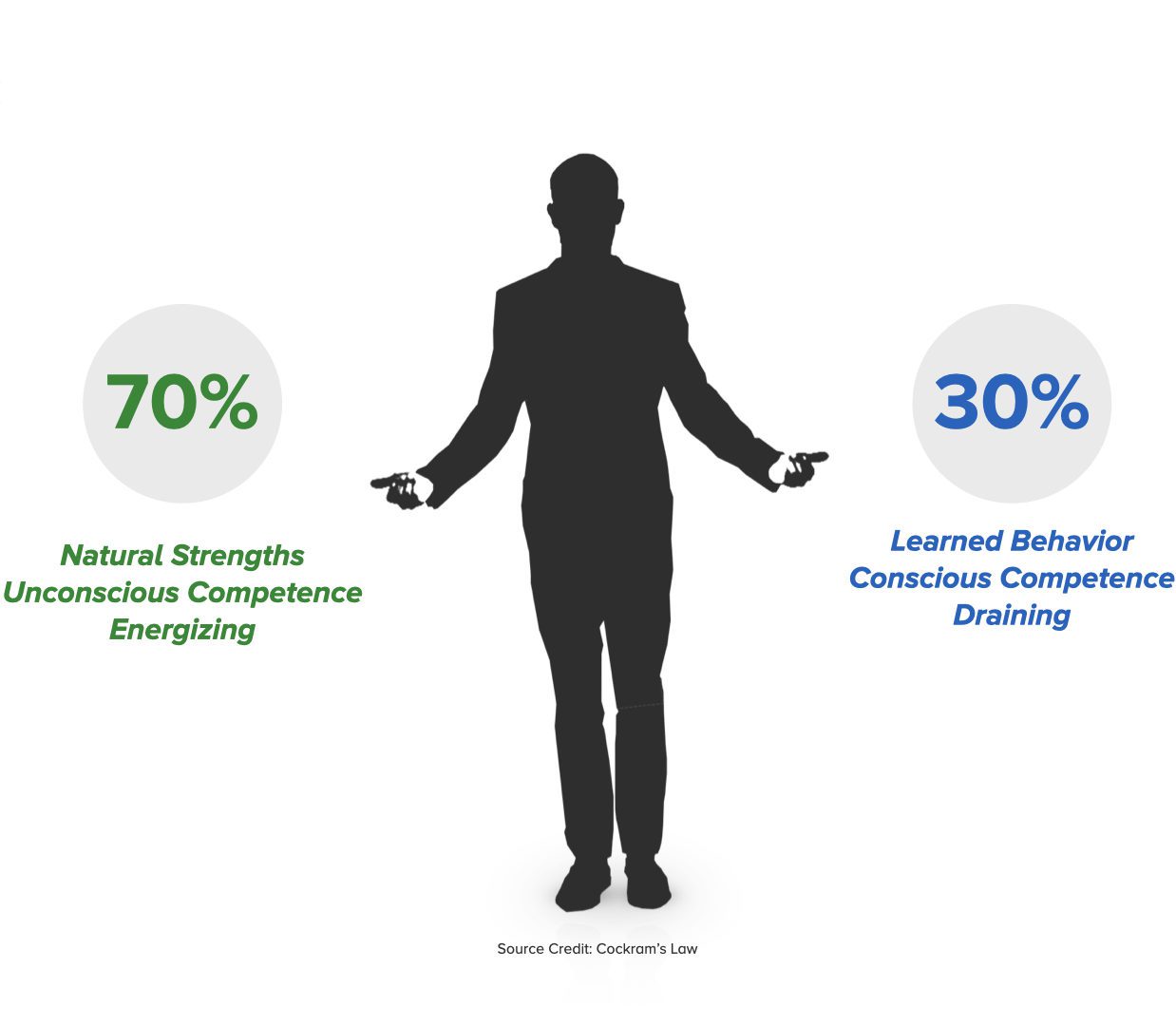 70/30
Work Balance
Our optimal balance of strengths vs. growth helps assess our current reality and identify the impact of stress.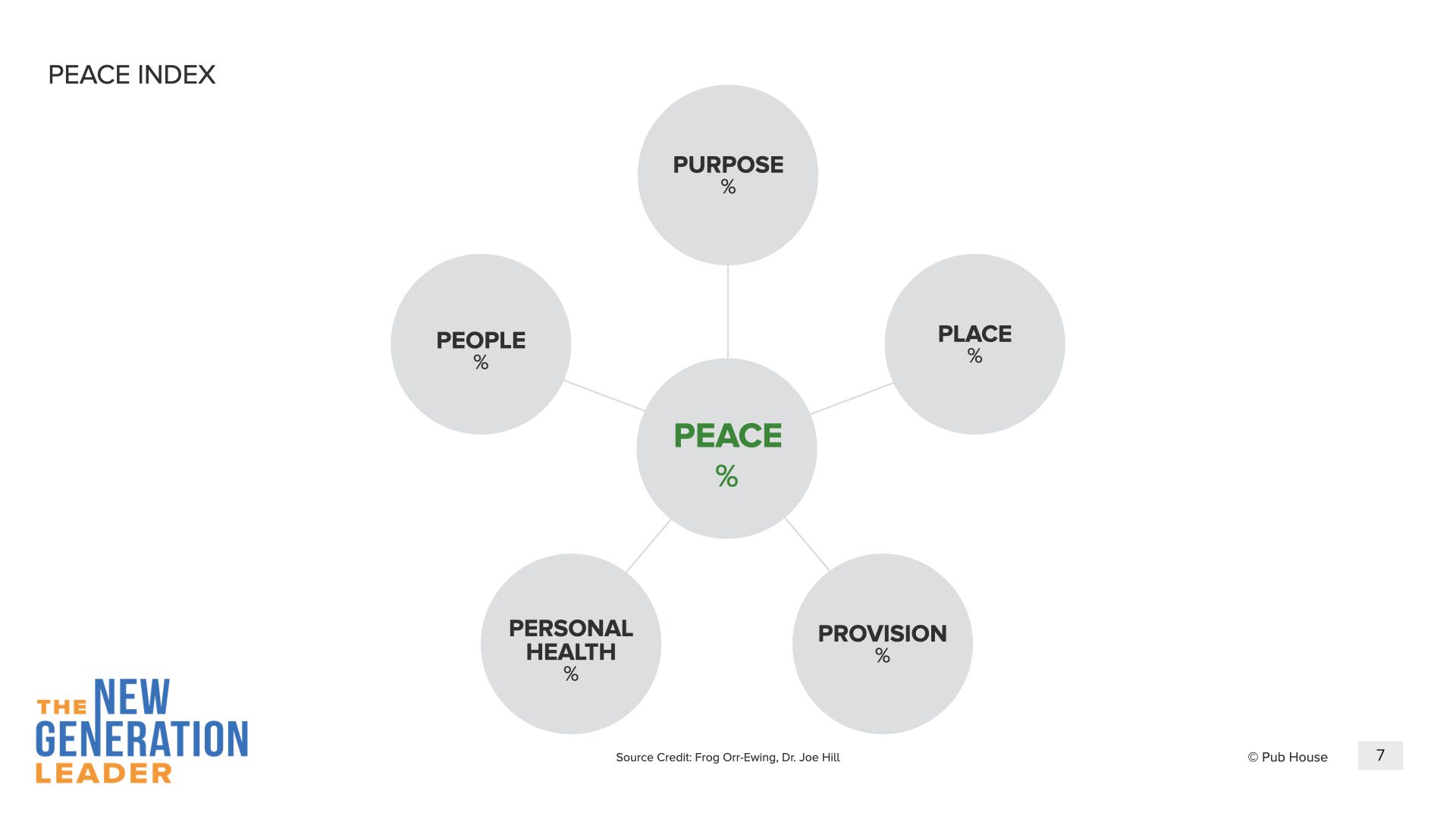 Peace Index
Current Reality
A benchmark to determine where you are right now with your environment.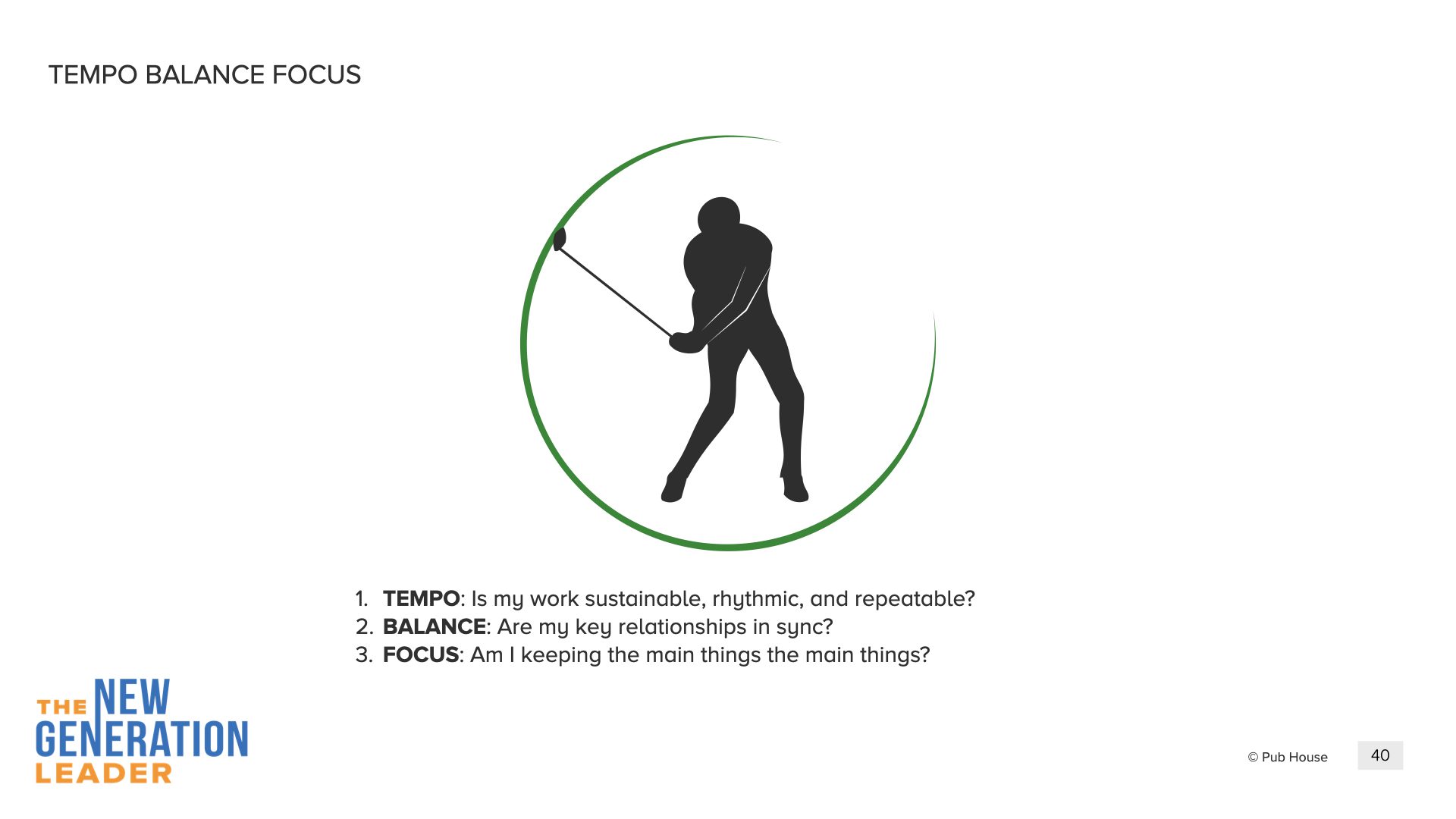 Tempo – Balance – Focus
Healthy Rhythms
Preparing now to move forward in the new year by balancing these three components of our daily rhythms.
Step 1: What did I do this year?
Here's my favorite part. I start by going back through my calendar.
It seems strange, but I've done this for the past few years. I go back through my calendar. This is how I start my retreat.
I walk through daily, week by week, all the way back to January 1st. Then I walk through day by day, week by week throughout the year. And I looked at a few things.
What conversations did I have?
Who did I work with?
What client engagements did I have?
What meetings did I have?
What did I get to do both professionally and personally? (I include the personal side, too, like coaching my girls, day trips or week-long vacations)
I am a reflective, introverted person. I don't naturally go out and have a lot of meetings, a lot of conversations, a lot of connections with people. One year when I looked at the full year, I thought, okay, 52 weeks out of the year, I maybe had 15 or 20 connections, 15 or 20 meetings. Once every couple of weeks seems pretty healthy.
And you know what I found: I had 66 connections over coffee or Zoom that year.
After I listed out everybody I connected with, I thought, you know, that was a lot of great conversations. Some of them might not be exactly the right people that I needed to connect with, but some of them were incredible connections.
Step 2: How did I do meeting my goals for last year?
One of my goals for this year was to read less than a book a week (last year's goal was 52!).
I kept a manageable pace for the first half of the year, but then I kept running across incredible books! I have managed to read more than 39 books this year, and I've kept a running tally and a list.
One of the things that I realized in reflecting on this: I read so many books. I was constantly taking in information, more and more information.
But I wasn't spending much time creating, thinking, putting new thoughts down on paper.
One of my changes was to create more space for creative thinking.
It has been challenging to find creative white space to dream, conceptualize, and think about what "could be."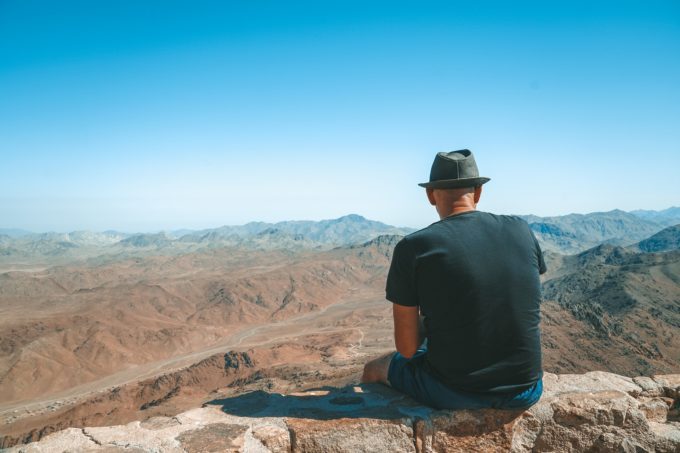 Step 3: What was I hoping to do that I didn't do this year?
I'm not quite sure I identified any of those items. I do have a list here somewhere in the office of some of the great ideas I had for the year.
At the beginning of 2020, I sketched out the whole year. I got Jon Acuff's Finish 2020 calendar (link to the current version, if you're interested!). And that was great for about the first six weeks.
And then we went off the rails.
As I sit here looking at this, there were some things that I wanted do this past year, but really if I think about it, I pivoted, I adapted, I adjusted and did some things that I wasn't expecting to do.
We pivot, we adjust – but measuring how we line up with goals is a good reflection.
Step 4: What should next year look like?
Then I took a look at what should the next year look like.
Honestly, I struggle a little bit with this. What do I want the year to be?
I set some realistic expectations. Some leaders choose a personal or business-focused word for the year, which might help you.
I didn't set pie-in-the-sky expectations, but I set some goals, some visions, some ideas of what I wanted the new year to look like.
And then I think about how to start with a first 12 week plan.
What do I need to put into action for these first 12 weeks?
This is where my goals, my weekly schedule, and the first quarter of the year collide.
Step 5: What daily rhythms should I adopt each week?
One of the things that I also spent time doing was answering the question,
what rules do I want to set for my weekly rhythm?
What I've realized is if I have certain kinds of meetings, certain kinds of tasks at certain times of the week, I'm not very effective.
Carey Nieuwhof is a big proponent of this in his High Impact Leader, setting out your schedule so that your schedule reflects your energy. How can you be your best self at the right time each day and throughout the week?
I looked at for myself. I realized in the last quarter of the year, I've had a few client engagements, first thing on Monday morning. You know what? I'm not great at coming out of the weekend and bringing my best first thing on Monday morning.
As I set out in the first 12 weeks of next year, most Monday mornings will not be for meetings. I will focus on my goals, what I can put on the schedule, how I can be productive, work, work on the business, build the business on Monday mornings and set that high priority.
What's that for you?
Find those right times during the week that you want to do key tasks and build that in, block it out on your calendar.
As I look back on the past few years, I've had certain midweek lunches blocked out on my calendar to connect with family, to connect with my wife or one or both of our kids, or certain times of the week that I want to set aside for different meetings or different conversations with people.
Do I change these sometimes? Yes, occasionally. But I always have an out if I need it: "I'm sorry, but I already have an appointment at that time."
This schedule to start the new year is going to look different for me. I'm not setting out to do the entire year. I will set a goal of working through the first 12 weeks like this. Then I will evaluate and adjust for the second 12 weeks.
Step 6: How will I keep track of my regular tasks, goals and key items?
I am not naturally task-oriented.
I need some tools to help me. And I need this one-page sheet that I've created. I need it always in front of me. I keep it on top of the notebook that I carry with me so that I can track:
my major goals
who I need to write notes of follow-ups to
my daily tasks
what do I need to put into the parking lot for next week?
here's some new ideas I want to think about
This isn't where I brainstorm new ideas. This isn't where I write articles.
This is about tasks and ideas and putting them down so that I can do something with them later. So I refreshed that, and I've printed the copy that I'm going to start the new year with.
Last Thoughts
As I look at my goals for the new year, I assign goals to each quarter. A major initiative, a major project I wanted to work on, was assigned to each quarter.
I need to manage expectations.
This way, I don't think come the end of January and think, "Wow, I have done nothing on three of these projects." Instead, I come to the end of January and ask how my first quarter major initiative is going. Or, do I need to adjust?
And for the next eight weeks of this quarter, pivot to a different major initiative, do I need to put this one in a different quarter?
Thinking about things in that 12-week rhythm will help us accomplish things of significance without putting them too far down the field.
This is one of the keys. As you look forward to a big, bright, bold new year, and what you want to do, breaking it up into bite-sized pieces will help you build the kind of year that you want to have.
What I love about this process is that come January 1st, I will be ready to roll with a new vision, a new plan, new goals, a fresh start. I don't have to do it in the new year. I've done it now in wrapping up this year.
What a crazy year few years it's been. Let's get the new year started on the right foot!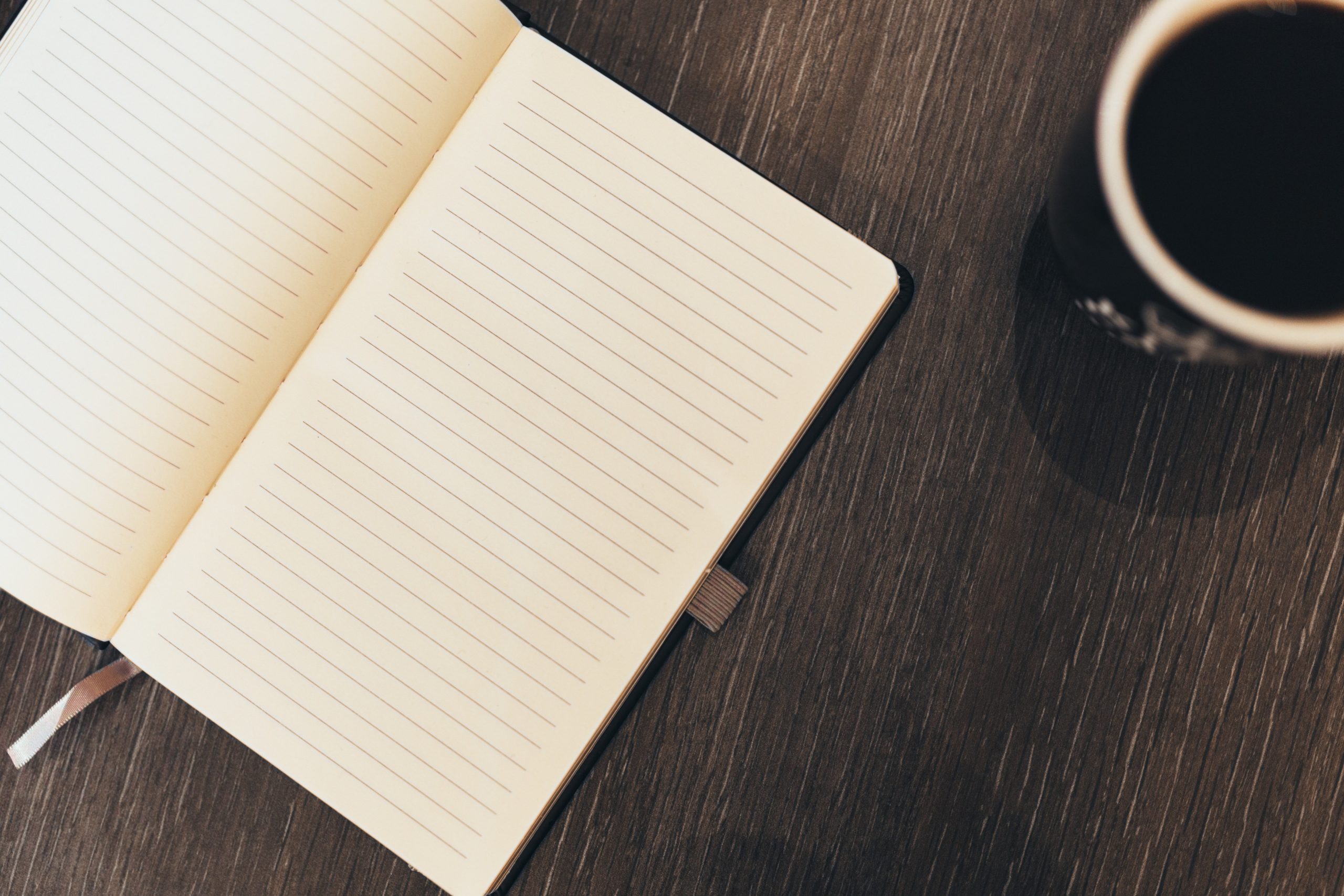 Start The New Year with the New Generation Leader Mastermind
Invest in yourself, and build the habits of leadership you need to bring your best in 2022.