Yesterday we kicked off a series on how to move from Surviving to Thriving. about staying connected in the chaos. Today, we dive into keep relationships strong with the people who are around us.
Here's a tool I want you to have in your toolbox.
The beauty of this simple tool is its value for teams, for families, and for our personal, everyday life.
Whether you work remotely or with a team, whether you are with family or live alone or with a roommate, the Gears can help you stay balanced in this season of chaos.
I have had an "official" home office for 10 months, but a de facto home office for longer than that. One of my greatest challenges is the balance of work, play, and relationships with the people inside the house vs. the people I'm working with.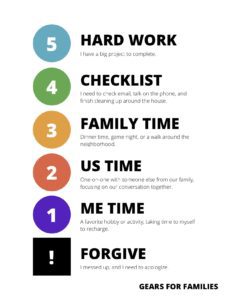 If you're new to working from home (or maybe just new to having people home while you're working from home!), the Gears can help you shift gears into the right level of productivity or presence, at the right time.
5. Hard Work: this is focused, dedicated, crank-it-out productivity time on a big project
4. Checklist: task-oriented, multi-task, check email, take a phone call, and finish cleaning up around the house
3. Family Time: social mode, dinner time, game night, or a walk around the neighborhood
2. Us Time: One-on-one time with someone else, focusing intently on our conversation together
1. Me Time: a favorite hobby or activity, taking time to myself to recharge
R. Forgive: don't forget, you might still make a mess you need to clean up. Apologize and forgive, even if you're not face-to-face!
3rd Gear is a pivot point. You can be productive in 3rd-5th gears, or you can be present in 1st-3rd gears. Here are a few key realities we should keep in mind:
Don't forget 2nd and 3rd gear with your team members, even if you're working remotely. Host dedicated "catch up" calls (just like you would swing by their desk in the morning), or simply embed 10-15 minutes for this at the beginning of a work-oriented call. Try starting with 3rd gear, shift into work, and then end the call with 2nd gear (Zoom has a feature for Breakout Rooms to accomplish this)
Help your family, roommate, or neighbor understand 5th gear. It might be harder to carve out the dedicated workspace, but if you can find the focused time for some major projects, this could be a very productive opportunity for you
Make the time for 2nd and 3rd gear with your family, roommates, and friends, too. Especially if you're cohabitating with someone else, we will need those relationships to refresh, recharge, and renew. Don't forget to unplug
If you're ready to dive into this tool more, here are a few resources:
Watch the 5 Gears series (get a free trial below) or the Remote Work series (free!)
Sign up for a 30 day free trial to watch the 5 Gears series
Jeremie and Steve wrote a whole book on the tool: 5 Gears
Download the family-focused eGuide, Gears for Families
Download the Gears for Families eGuide [PDF]
See if you can build this tool into your work-life rhythm! Tomorrow, part 3 in the From Surviving to Thriving series.