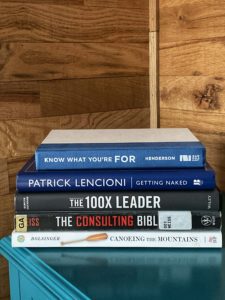 I set out to record each book I read this year. I'm somewhere north of 29 books, but I think I lost track of some of my reads.
Alas, it's not about how many, but about what I picked up along the way.
Out of 29+ books, a few jumped out. I hope you find one to pick up as you start 2020. Learn something new, pick up a new skill, gain a new insight into your world.
Here we are, my top 5 books of 2019.
Top 5 Books of 2019
#5: Know What You're FOR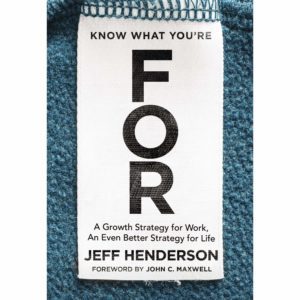 I've heard Jeff talk live about the #ForGwinnett campaign, and the idea of making a positive impact in your community is so encouraging to hear about.
Jeff's #FOR campaign grew out of his marketing background with Atlanta sports and Chick-fil-A, and turned into a way to help grow a sense of passion and pride for their community in Gwinnett.
Your organization will experience unprecedented growth when you close the gap between these two game-changing questions: What are we known for? What do we want to be known for?
Jeff drops in practical steps you can implement in your life and work. One of my favorites is the art of note writing. Jeff tells the story of how Frank Blake helped turn Home Depot around on the back of writing notes to his team and staff he met when he visited stores. It's simple, practical, and makes a world of difference!
If you happen to live in the Richmond area, start using #ForShortPump!
Buy Know What You're FOR on Amazon
4 Talking to Strangers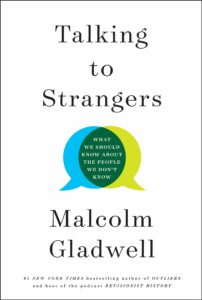 I am a big Malcolm Gladwell fan, but somehow I didn't hear about this book's release until the day it came out. When I moved out of my office earlier this year, I downsized my library significantly, so I wasn't in a rush to add another book. I checked the library, and every copy was checked out. But I walked into the library on release day, and there was a copy sitting on the shelf.
Malcolm takes a fantastic journey, as usual, through multiple modern day challenges – college rape culture, bias in traffic stops, Bernie Madoff and the trial of Amanda Knox – and weaves research and stories into theories about why things happen the way they do.
How did Fidel Castro fool the CIA for a generation? Why did Neville Chamberlain think he could trust Adolf Hitler? Why are campus sexual assaults on the rise? Do television sitcoms teach us something about the way we relate to each other that isn't true?
As we interact more and more with complete strangers, it helps to understand what we expect.
Buy Talking to Strangers on Amazon
#3: The Only Plane in the Sky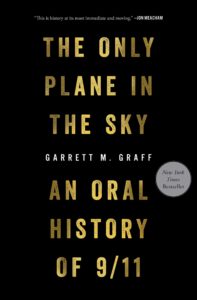 In the years following 9/11, so many fascinating stories have emerged of what took place that day across our country. In this new look at the day, and the events that followed, Garrett Graff takes a creative approach to the events of this horrific day.
Drawing on never-before-published transcripts, recently declassified documents, original interviews, and oral histories from nearly five hundred government officials, first responders, witnesses, survivors, friends, and family members, Graff paints the most vivid and human portrait of the September 11 attacks yet.
The storytelling is so unique, because the narrative is a woven interplay between voices who may not have ever met. The result is a fascinating, deeply personal perspective bringing emotion and an intense view of the human element you may never have considered to the events of the day.
Here's a sample of the narrative: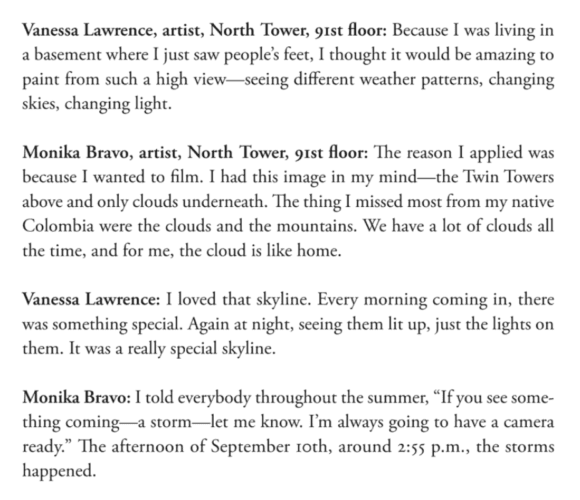 When I visited the 9/11 Memorial at Ground Zero a few weeks after reading the book, what Graff researched and compiled brought tremendous new insight and perspective to the names engraved around the memorial.
Buy The Only Plane In the Sky on Amazon
#2: The Illegal: A Novel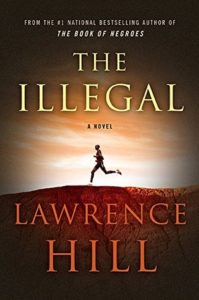 The library strikes again. We were headed to the beach, and I was looking for a good book. For some reason, The Illegal: A Novel jumped out. Lawrence Hill writes an incredible tale of a fictional nation-state in the midst of turmoil, and a championship runner trying to make a name for himself.
Keita runs to support himself and to save his sister, who has been kidnaped, while his family is stuck in a vicious cycle of political violence. Part sport, part thriller, The Illegal: A Novel keeps you wondering what's real somewhere in our world and on the edge of your seat wondering what's next.
This tension-filled novel by the best-selling author of Someone Knows My Name is an astute exploration of dislocation, starting all over again, and the desperate need for home and community.
This is one of those fictional books I couldn't put down. I find myself reading a lot of work-related books, but The Illegal: A Novel brought a story to life that distracted me from work. Perfect for reading on the beach. The story drew me in, and I finished it in no time flat. The views didn't hurt.
Buy The Illegal: A Novel on Amazon
#1: 100X Leader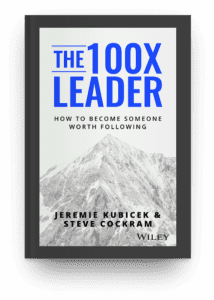 The most-anticipated book of my year rests atop the list at #1. Jeremie and Steve lay out the case for liberation and becoming a sherpa kind of leader – for your team, your organization, your family, and yourself.
Forget everything you know about motivating others and building a harmonious workplace. If you want to get the best out of people, you must be willing to fight. But, that doesn't mean you become a dominator, nor does coddling others work.
Chapter 9 might be my favorite. You can't outsource culture, and I have seen so many "protecting" or "dominating" cultures in organizations. But the power behind the 100X Leader is creating a culture of liberation. Because under pressure, culture trumps strategy. What culture do you want to shine through?
I love the visual tools and personal reflections throughout the book. This is one of the most practical books I've read in a long time. Read this book, and let me know what you take away.