Have you ever had one of those seasons where every day feels like an uphill climb?
You end each day with a to-do list longer than where you started.
We all have gifts. These natural, innate talents help us succeed.
We also learn along the way, finding additional talents.
But our challenge areas, when left unchecked, bring us those long, uphill runs in an unhealthy way.
Our areas of conscious and unconscious incompetence – the things where we are not naturally gifted – make us work harder.
We have to think more, process more, and output more energy.
So what is our optimal balance?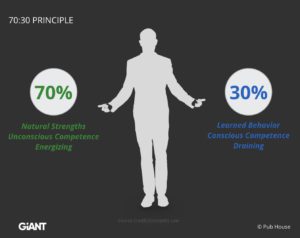 In our team development and coaching, we introduce the 70/30 principle.
At the best, we will spend 70% of our time working out of our gifts. This energizes us!
And 30% working at things which challenge us. This drains us, but is also stretches us.
These two dynamics keep us balanced. If our balance is out of alignment, our days will feel like an uphill climb.
What is in your 70%?
PS – We shouldn't ever reach 100%/0%. That 30% is healthy – it stretches us!