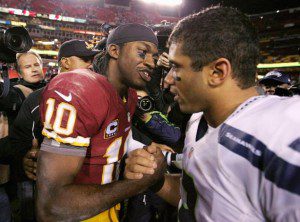 There were two things I saw in Russell Wilson last night as his Seahawks dismantled the Washington Redskins:
In his postgame interview with FOX, Russell was passionate, well-spoken and tastefully excited about what his team had just accomplished. He represented his team, his family and his hometown well.
When RGIII went down, Russell was shown off to the side, sitting by himself, obviously distraught for his opponent. A class act.
In Saturday's Washington Post, Russell said:
I'm not about flash…
And he's not flashy. He doesn't bring a lot of attention to himself. He quietly gets his work done and leads his team.
Despite the fact that Russell attended my rival high school, I'm not cheering for the Cougars, I'm pulling for the Seahawks. He's just the kind of hero we need more of in the world.
Go Hawks!
Unfortunately, Russell and the Seahawks play Lawrence Sidbury, a former Spider, and the Falcons next weekend. I guess it's a win-win situation for Richmonders.