A prominent politician making headlines isn't new.
Reports in the Huffington Post, New York Times and BuzzFeed News detailed claims that Klobuchar had thrown objects in anger, insulted her staff and made them run personal errands. – Politico
Here's what it looks like to me: like most of us, we struggle to fully grasp what it's like to be on the other side of ourselves.
In a perfect world, the more we know about ourselves, the better we can lead ourselves.
But most of the time, we don't. We don't fully wrestle with how our team, our friends, or our family view us. We don't know how our tendencies and actions lead to consequences (both positive and negative), we just know what the outcome is.
What we learn and know about ourselves should include our nature, our nurture, and our choice. Who we are builds on our natural born instincts. How we grew up shapes us. We make decisions based on this.
Do we know this? Or do we even pay attention?
There are two narratives about Senator Klobuchar. The first is her effectiveness. The Center for Effective Lawmaking ranks the Senator as the 5th most effective senator in 2017-2018.
Sen. Klobuchar put forward 69 pieces of legislation, the study said, eight of which passed the Senate and four of which became law. – TheLawmakers.org
The other story is her temper. Throwing binders, yelling at staff,
To me, this sounds like a Pioneer. And when Pioneers pull out their weapon of choice, they'll drop victims with a grenade launcher at the flip of a switch.
But when a pioneer gets their hands around a vision, they will work their hardest to get it done.
The 5 Voices paint a picture of how each voice acts in moments of weakness. These stories about Senator Klobuchar show a classic case of a pioneer's weapon system.
From my perspective, she appears to more self-aware now than she maybe used to be. And that's great. For every one of us, there is a continual growth journey.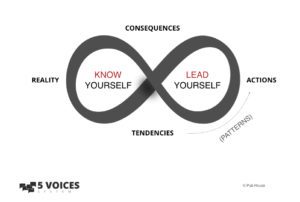 When we said earlier our tendencies and actions lead to consequences, there is a tool in our 5 Voices training which describes this: the Know Yourself to Lead Yourself tool.
See the infinity loop? Personal growth never ends. Not for senators, CEOs, you or me.
Getting beyond politics, we have all seen leaders in a less than positive light. We have had leaders pull out their grenade launchers and take us out.
But if we fight for the highest possible good of those we lead (and ourselves), we'll work on our tendencies and develop new patterns.
I think Senator Klobuchar is working toward new patterns, and I know you can do it, too.